In the e-commerce industry, optimizing user experience is essential for driving sales and ensuring customer satisfaction. One element that plays a pivotal role in this process is the shopping cart. In this ThriveCart review, we will explore various features, integrations, pros and cons, and alternatives to help you determine if ThriveCart is the right tool for your online business.
Table of Contents
What is Thrivecart?
ThriveCart is a shopping cart platform that allows you to sell digital and physical products. It is a hosted service, meaning you do not have to install any software on your server, making it easier to use straight out of the gate, even without technical experience.
ThriveCart was created by Josh Bartlett in 2016 and is part of WebActix, Ltd. This powerful and versatile shopping cart platform offers a wide range of super helpful features, which we will discuss further in the article.
Why I Purchased Thrivecart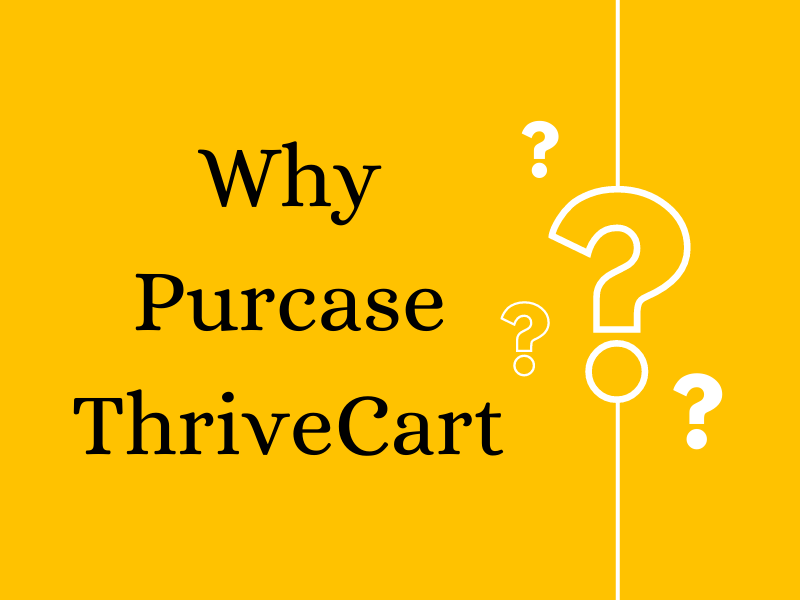 I purchased ThriveCart four years ago. I needed a powerful checkout cart for my services and digital products. I came across ThriveCart after considering several other shopping carts. The one-time fee was the deciding selling point for me.

I like how easy it is to set up ThriveCart. The process is very straightforward step-by-step. Which wasn't the case for other shopping carts I was looking into. I needed to charge in different currencies, and ThriveCart connected to Stripe and PayPal without any issues.
My checkout page is now a beautiful page loaded with testimonials and is straightforward for my customers to use.
ThriveCart Review: Who Is ThriveCart Suited For?
We all know that e-commerce businesses are on the rise and that the purchasing journey is becoming increasingly difficult for customers. This is where Thivecart comes in. If you have an online store, Thivecart can help take your business to the next level by better managing the complete buying cycle, from marketing to sales and support. But who exactly is Thivecart suited for? Let us take a look.
ThriveCart is well-suited for selling digital products or services online, such as:
eBooks
Online Courses
Software
Membership Sites
Coaching
Consulting services
Research before purchasing this ThriveCart shopping cart software, and make sure it's suitable for your business/products.
ThriveCart Review An In-Depth Analysis of High-Converting Checkout Pages
ThriveCart is a robust and versatile eCommerce platform specifically designed to optimize the performance of checkout pages, leading to higher conversion rates for businesses. This analysis delves into the fundamental aspects of high-converting checkout pages within the ThriveCart system, elaborating on their essential components and the underlying psychological principles.
The Importance of Checkout Page Optimization
A well-designed checkout page plays a crucial role in the success of an e-commerce business. Suboptimal checkout experiences can result in abandoned carts and lost sales, while optimized and streamlined processes contribute to increased conversions and, ultimately, revenue growth. The need for businesses to pay attention to the details of their checkout pages becomes all the more imperative when considering the highly competitive nature of the online marketplace.
Key Components of High-Converting Checkout Pages
Simplicity and Clarity:

A clutter-free and easy-to-understand layout are essential for keeping customers focused on completing the transaction. Minimizing distractions, such as excessive graphics or advertisements, and providing clear instructions reduce cognitive load and facilitate smooth navigation through the purchasing process.

Trust Signals

Incorporating trust indicators, such as security logos, customer testimonials, and satisfaction guarantees, can help alleviate customers' concerns regarding the safety and legitimacy of their transactions, thereby increasing the likelihood of conversion.

Multiple Payment Options

Offering a variety of payment methods caters to different customer preferences and increases the chances that potential buyers will complete their purchase. Furthermore, it provides convenience and flexibility, which can positively influence a customer's perception of the shopping experience.

Responsive Design

Ensuring that the checkout page is mobile-responsive addresses the growing trend of mobile shopping and guarantees a seamless experience for customers using various devices.

Personalization

Tailoring the checkout experience to individual users based on factors such as geographic location or browsing history can evoke a sense of familiarity and comfort, thereby increasing the probability of conversion.
Psychological Principles Underlying High-Converting Checkout Pages
Loss Aversion

By emphasizing the potential benefits and value customers may miss out on if they abandon their cart, businesses can tap into the psychological principle of loss aversion, which posits that people are more motivated by the fear of loss than the prospect of gain. You can employ time-sensitive offers, limited stock notifications, or exclusive discounts to drive more sales in ThriveCart.

Social Proof

Incorporating customer reviews, testimonials, or endorsements into the checkout process leverages the concept of social proof, wherein individuals look to others' behavior to guide their decisions. Potential buyers may be more inclined to complete their purchase if they perceive a product or service as popular and well-regarded.

Reciprocity

Offering small incentives or gestures of goodwill, such as free shipping or a complimentary gift, can foster a sense of reciprocity among customers. The principle of reciprocity suggests that individuals are much more likely to respond favorably to those who have demonstrated goodwill toward them, potentially leading to a higher likelihood of conversion. Offer something and make a big deal about it!
Counter Arguments and Dissenting Opinions
Some critics argue that specific psychological tactics, like scarcity-based marketing or overly aggressive upselling, can lead to negative customer experiences and diminished trust in a brand. While these concerns are valid, businesses must balance effective persuasion strategies and ethical practices to maintain long-term success.
In a nutshell, optimizing checkout pages in ThriveCart encompasses a range of critical components and psychological principles aimed at converting potential buyers into satisfied customers. By understanding these elements and integrating them thoughtfully and ethically, e-commerce businesses can maximize their conversion rates and foster sustainable growth in this competitive online market.
ThriveCart Review Embeddable Cart Pages & Popup Checkout Pages

ThriveCart offers embeddable cart pages and popup checkout pages as part of its feature set. These tools can help to enhance customers' online shopping experience while streamlining the process for merchants. In this analysis, we will look into the workings of these elements and examine their advantages in the context of cognitive science, user psychology, and overall business growth.
Embeddable Cart Pages
Embeddable cart pages allow merchants to integrate a shopping cart interface within their website seamlessly. From a cognitive perspective, this promotes familiarity and ease of use, as customers can interact with the cart without leaving the website they are accustomed to. The consistency of the user interface (UI) and user experience (UX) also fosters trust in the brand, which is essential for customer retention and loyalty.
Incorporating embeddable cart pages on a website reduces the number of steps users need to take before completing a purchase, which aligns with Hick's Law, a psychological principle stating that the time it takes for an individual to decide is directly proportional to the number of choices presented. ThriveCart ultimately encourages more conversions and increased business revenue by simplifying the purchasing process.
Popup Checkout Pages
Popup checkout pages provide another layer of convenience for customers, enabling users to complete the purchasing process quickly without navigating to a separate page. This minimizes potential distractions and removes barriers to conversion.
Regarding cognitive load theory, which posits that human working memory has a limited capacity for storing information, reducing the mental effort required to complete a transaction simplifies the purchasing experience. Popup checkout pages streamline the process, decreasing the cognitive load and making consumers more likely to finalize their purchase.
Moreover, popup checkout pages offer customization options that can easily be tailored to match the look and feel of the merchant's website, reinforcing brand identity and trustworthiness. From a psychological standpoint, consistency in design elements and the overall aesthetic of an online store contribute to consumers' perception of professionalism and credibility.
In a nutshell, Thrivecart's embeddable cart pages and popup checkout pages offer many benefits for both customers and merchants. These tools simplify purchasing, reduce cognitive load, cultivate trust, and bolster brand identity. By incorporating these features into their e-commerce platform, businesses can enhance the shopping experience for their customers, ultimately leading to increased conversion rates and revenue growth.
ThriveCart Review Bump offers, 1-click upsells, downsells, & order bumps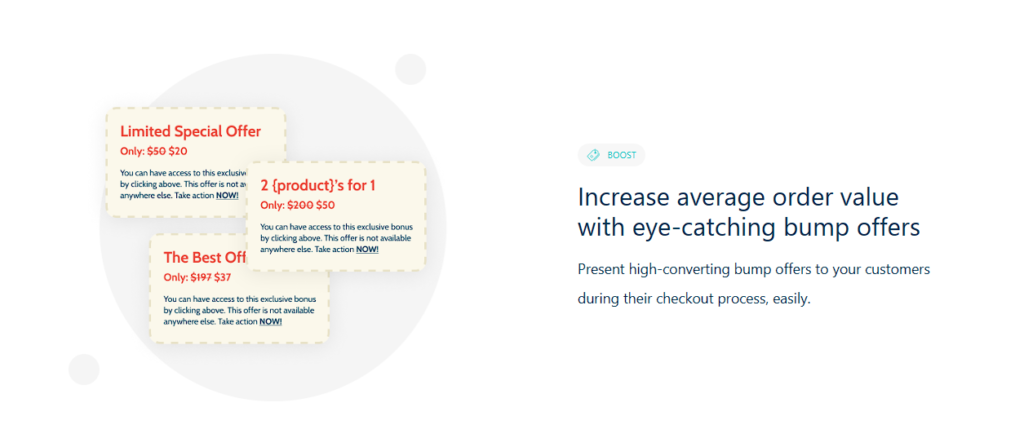 One of my favorite features of ThriveCart includes Bump offers, 1-click upsells, down sells, and order bumps, which can quickly increase the average transaction value (ATV) and customer lifetime value (CLTV). This analysis will examine these features, exploring their underlying psychological mechanisms and potential business benefits.
Bump Offers

A bump offer is a complementary product or service presented during checkout. These offers are generally lower-priced items designed as impulse purchases, persuading customers to add them to their orders with minimal hesitation. From a psychological standpoint, bump offers capitalize on the commitment and consistency principle. Once customers have decided to buy one product, they are more likely to purchase additional items in line with their initial decision.

1-Click Upsells

Upselling refers to encouraging customers to purchase a higher-priced item or upgrade to a more expensive version of their chosen product or service. Thrivecart's 1-click upsell allows customers to add the upgraded item to their order with a single click. This strategy leverages the endowment effect, which posits that individuals place more value on possessions they already own or perceive themselves to be acquiring. The ease of the 1-click upsell method makes it more enticing for customers to opt for the upgraded option.

Downsells

Downselling occurs when customers are presented with a lower-priced alternative after declining a higher-priced product or service. This technique is particularly effective in retaining customers who hesitate to commit to a larger purchase due to budget constraints or uncertainty. By presenting a more affordable option, businesses can secure a sale while maintaining a positive customer experience. Downsells tap into the principle of loss aversion, which suggests that individuals are more motivated to avoid perceived losses than to pursue equivalent gains.

Order Bumps

Order bumps are akin to bump offers but differ in their presentation. While bump offers appear during checkout, order bumps are displayed directly on the shopping cart page, usually as a checkbox that customers can easily select to add an item to their order. This strategy employs choice architecture, designing choices that nudge individuals toward desired outcomes. In this case, the ease and simplicity of adding an order bump influence customers to increase their overall purchase value.
Counter Arguments and Dissenting Opinions
While ThriveCart's bump offers, 1-click upsells, down sells, and order bumps may effectively increase ATV and CLTV; some argue that these tactics could lead to customer dissatisfaction or distrust. Critics contend that overly aggressive upselling and down selling practices could result in customers feeling manipulated or coerced into making purchases they neither want nor need.
In summary, ThriveCart's bump offers, 1-click upsells, down sells, and order bumps provide businesses with powerful tools for maximizing sales and revenue. By understanding and leveraging psychological principles such as commitment and consistency, the endowment effect, loss aversion, and choice architecture, these strategies can enhance customers' purchasing experiences while simultaneously increasing transaction values. However, businesses must balance persuasive marketing techniques and maintaining customer trust, ensuring long-term success and satisfaction.
ThriveCart Review Affiliate Tracking & Friendly Affiliate Center
ThriveCart provides an efficient and easy-to-use affiliate tracking and management system. With its friendly affiliate center, ThriveCart offers significant benefits for merchants and their affiliates by incorporating sophisticated technology and strategies to promote product sales and conversion rates.
Affiliate tracking plays a crucial role in managing and monitoring the performance of affiliates who promote products or services on behalf of a merchant. ThriveCart's affiliate tracking system employs various techniques, such as cookies and unique referral links, to ensure accurate sales attribution to corresponding affiliates. This system enables merchants to determine the effectiveness of affiliate marketing campaigns and calculate the commissions owed to affiliates based on their contributions.
ThriveCart's friendly affiliate center serves as a centralized hub for affiliates to access promotional materials, track their earnings, and monitor the success of their marketing efforts. The platform offers a range of features to enhance the overall user experience, including:
Intuitive Dashboard

The affiliate center provides a user-friendly dashboard that displays essential information at a glance, such as earnings, clicks, conversions, and payout details. This allows affiliates to quickly assess their performance and make data-driven decisions for optimizing their marketing strategies.

Promotional Tools

ThriveCart equips affiliates with various promotional tools and resources, such as pre-designed banners, email swipe files, and social media content. These assets enable affiliates to enhance their marketing campaigns and drive higher conversion rates with minimal effort.

Detailed Analytics

The platform offers in-depth analytics that helps affiliates gain insights into their audience's behavior, preferences, and demographics. By analyzing this data, affiliates can fine-tune their marketing efforts to target specific segments more effectively and improve their campaigns' return on investment (ROI).

Seamless Integration

ThriveCart's affiliate center seamlessly integrates with popular email marketing solutions, CRM systems, and membership platforms. This facilitates efficient data sharing and synchronization, allowing affiliates to manage their campaigns more effectively and automate various tasks associated with lead generation and customer relationship management.

Customization Options

ThriveCart enables merchants to customize the look and feel of the affiliate center to match their brand identity. This provides affiliates with a consistent and professional environment when accessing the platform, fostering trust and credibility in the merchant's offerings.
In a nutshell, ThriveCart's affiliate tracking system and friendly affiliate center offer significant advantages for merchants and affiliates by streamlining the management of affiliate marketing campaigns, providing valuable insights into performance metrics, and offering robust promotional tools that facilitate higher conversion rates. By leveraging sophisticated technology and strategies, ThriveCart enables businesses to optimize their online sales processes while empowering affiliates with the resources needed to promote products and services in the digital marketplace successfully.
ThriveCart Review Membership Platforms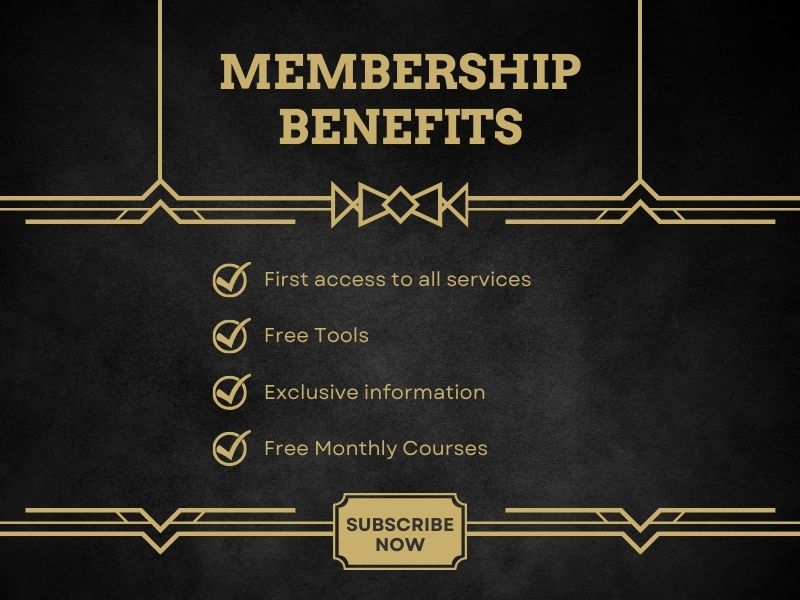 ThriveCart has gained significant attention in recent years due to its extensive features and intuitive user interface, which enables businesses to manage their digital products, services, and subscriptions efficiently. One of the key aspects of ThriveCart is its integration with various membership platforms that help streamline the process of managing member access to content and resources.
In this analysis, we will explore the significance of these membership platforms, some popular options compatible with ThriveCart, and the benefits they offer users.
Significance of Membership Platforms
Membership platforms are crucial in enhancing customer experience, retention, and loyalty. They enable businesses to create customized content for different membership levels, track user progress and engagement, and implement automated processes for handling subscriptions, billing, and communications. The coupling of ThriveCart with a robust membership platform helps businesses optimize their workflow, save time, and increase revenue by delivering an improved customer experience.
Popular Membership Platforms Compatible with ThriveCart
Several membership platforms can be seamlessly integrated with ThriveCart, including:
a) MemberPress – A popular WordPress plugin allowing businesses to create and manage membership sites easily. It provides comprehensive features such as content dripping, access rules, custom user registration fields, and detailed reporting.
b) Wishlist Member – Another widely-used WordPress plugin, Wishlist Member offers advanced features for creating and managing membership websites. It supports multiple membership levels, custom login forms, and content protection, which integrates well with email marketing services.
c) Teachable – Designed primarily for creating and selling online courses, Teachable comes with a fully-featured membership site capability. It offers course creation, student tracking, quizzes, and certificates. Additionally, it integrates easily with third-party tools and platforms.
d) Thinkific – Similar to Teachable, Thinkific is an all-in-one platform for creating, marketing and selling digital courses. It provides many features, including content hosting, course creation, student management, and analytics.
Benefits of Integrating ThriveCart with Membership Platforms
a) Centralized Management

Integrating ThriveCart with a membership platform allows businesses to manage their digital products, subscriptions, and member access from a single dashboard, simplifying managing memberships and ensuring that important information is easily accessible.
b) Automation of Processes

With integration, processes like user registration, billing, and content access can be automated, freeing up time and resources for businesses to focus on growth and development initiatives.
c) Enhanced User Experience

By streamlining content delivery and providing seamless access to resources, businesses can create a professional and intuitive user experience for their members. This often results in increased customer satisfaction and retention rates.
d) Improved Security

ThriveCart's secure checkout pages can be linked to various membership platforms, ensuring that sensitive user data remains protected during transactions.
In conclusion, integrating ThriveCart with a suitable membership platform enhances an online business's overall functionality and efficiency. As businesses embrace digitalization, offering a seamless and enjoyable user experience becomes paramount. By leveraging these integrations, companies can streamline workflows, improve customer satisfaction, and ultimately increase revenue.
ThriveCart Review: Seamless Integrations
ThriveCarts is one of the best shopping cart solutions, with many integrations that expand its usefulness. Below we discuss a few.
ThriveCart Fulfillment Services: An In-Depth Analysis
ThriveCart's fulfillment services integration simplifies managing orders and delivering products to customers. This analysis will delve into the core components of ThriveCart's fulfillment services, elucidate their advantages, and explore potential concerns regarding these services.
Core Components and Advantages
Integration with Multiple Fulfillment Providers

ThriveCart seamlessly integrates with various fulfillment providers, such as ShipStation, Printful, and Shopify. These partnerships allow businesses to choose the best provider that meets their specific requirements and budget constraints, catering to diverse logistical needs and ensuring efficient product delivery.

Automation of Order Processing

ThriveCart automates the entire order-processing workflow by utilizing advanced algorithms and software. This automation eliminates manual errors, reduces delays, and increases overall efficiency. Consequently, businesses can allocate resources to other critical aspects of their operations, such as marketing and customer support.

Real-time Tracking and Updates

Thrivecart's fulfillment services provide real-time tracking and updates on order status, enabling businesses and customers to monitor the progress of shipments. This transparency fosters trust between companies and their clientele, improving customer retention rates and brand loyalty.

Customization and Scalability

The platform allows businesses to customize various elements of their fulfillment processes, incorporating specific shipping rules, discounts, and options. This adaptability enables companies to tailor their services to their evolving needs, ensuring the system remains relevant and viable even as the business grows.

Enhanced Customer Experience

A streamlined and efficient fulfillment process directly impacts the customer experience. A well-integrated fulfillment service leads to faster delivery times, accurate order processing, and reduced errors, significantly contributing to overall customer satisfaction.
Potential Concerns and Counterarguments
Despite the numerous advantages offered by ThriveCart's fulfillment services, some potential drawbacks and concerns are:
Integration Costs

Integrating multiple third-party fulfillment providers might entail additional expenses, potentially straining businesses with limited resources. However, the long-term benefits of such integration – improved efficiency and customer satisfaction – can justify these costs as wise investments in future growth.

Privacy and Security

Data privacy and security have become paramount with increased reliance on digital systems. Businesses must ensure that their fulfillment partners maintain rigorous security protocols and adhere to stringent data protection regulations.

Dependency on Third-Party Providers

Outsourcing fulfillment processes can lead to a certain level of dependency on external providers, which may result in disruptions if the provider encounters issues or discontinues their services. To mitigate this risk, businesses should carefully evaluate and select reliable providers with proven track records in the industry.

In Summary, ThriveCart's fulfillment services provide a robust and efficient solution for managing and optimizing e-commerce order processing and delivery. By leveraging these services, businesses can enhance customer satisfaction, streamline operations, and ultimately boost their bottom line. While potential concerns exist, a reasonable selection of fulfillment partners and strategic planning can help businesses reap the myriad benefits that ThriveCart's fulfillment services offer.
ThriveCart Review Webinars
ThriveCart recognizes the potential of webinars as an integral component of marketing and sales strategies. Consequently, it has integrated with several popular webinar platforms to streamline the process of organizing and promoting webinars. This seamless integration allows users to create and manage webinars directly from their ThriveCart account, enhancing productivity and convenience.
Some of the prevalent ThriveCart webinar platforms include:
Zoom

One of the most widely used video conferencing tools, Zoom offers an intuitive interface and robust functionality. Its integration with ThriveCart enables users to schedule and manage webinars easily, track attendee information, and leverage powerful analytics for data-driven insights.

GoToWebinar

A pioneer in webinar solutions, GoToWebinar is known for its stability, user-friendly interface, and advanced features like automated webinars and custom branding options. ThriveCart's compatibility with GoToWebinar allows for seamless organization and promotion of webinars, comprehensive reporting, and analytics.

Demio

Demio is a browser-based webinar platform explicitly designed for marketers, emphasizing simplicity and performance. Its integration with ThriveCart enables users to access advanced marketing features like automated email sequences, in-webinar calls-to-action, and detailed audience insights.

WebinarNinja

With its focus on ease of use and powerful marketing tools, WebinarNinja has carved a niche in the webinar landscape. Its integration with ThriveCart simplifies creating and managing webinars while offering robust analytics and user-tracking capabilities.
While these platforms have unique strengths and weaknesses, evaluating individual requirements and objectives is crucial when selecting a suitable platform. Factors such as budget, intended audience size, technical expertise, and specific feature requirements are just a few considerations.
In conclusion, ThriveCart webinar platforms have emerged as indispensable assets for businesses and individuals seeking to leverage the power of online seminars and workshops. By integrating with various leading webinar solutions, ThriveCart simplifies organizing and promoting webinars, contributing to a more efficient and productive experience. As technology advances, webinar platforms will likely evolve further, offering even more sophisticated features and enhanced usability to cater to an increasingly diverse user base.
ThriveCart Payment Gateway Integration
ThriveCart shopping cart solution offers the potential for seamless integration with multiple payment gateways. Such integrations facilitate secure, efficient, and convenient transactions for merchants and customers within the e-commerce ecosystem. This comprehensive analysis delves into the significance of integrating payment gateways with ThriveCart and elucidates the process involved.
Significance of Payment Gateway Integration:
Enhanced Security:

Integrating reputed payment gateways provides an additional layer of security to transactions, as these gateways employ stringent measures to protect sensitive data, such as credit card details and customer information. This prevents unauthorized access and data breaches, instilling trust in customers and adhering to compliance standards.

Streamlined Transactions

Payment gateway integration simplifies the transaction process by enabling a frictionless user experience. Customers can make payments using various methods, such as credit cards, digital wallets, or direct bank transfers, without leaving the merchant's website, reducing cart abandonment rates.

Faster Processing

Efficient integration ensures real-time processing of transactions, thereby expediting order placement and fulfillment. This allows businesses to enhance their operational efficiency and bolster overall productivity.

Global Reach

Including multiple payment gateways expands a business's scope by accommodating international customers and supporting different currencies. This fosters global growth and amplifies revenue generation.

Comprehensive Reporting

Integrated payment gateways furnish detailed reports on transaction history, helping merchants track sales, identify trends, and optimize their strategies accordingly.
ThriveCart Payment Gateway Integration Process:
To successfully integrate a payment gateway with ThriveCart, follow the steps enumerated below:
Choose the Payment Gateway

Assess the available options, such as PayPal, Stripe, or Authorize.net, based on factors like supported currencies, transaction fees, chargeback policies, and compatibility with your target audience.

Create an Account

Register for an account with the chosen payment gateway, providing the requisite business and personal information for verification and compliance.

Obtain API Credentials

Once the account is approved, obtain the necessary API credentials, which typically include an API key or a combination of a publisher and secret key.

Configure ThriveCart Settings

Log in to your ThriveCart dashboard and navigate to 'Settings'> 'Payment Gateways.' Select the desired payment gateway and input the obtained API credentials. Save the configuration to complete the integration.

Test Transactions

Conduct test transactions to ensure seamless functioning and verify that the integrated payment gateway accurately processes payments.

Monitor and Optimize

Continuously monitor the performance of the integrated payment gateway, identifying areas for improvement, such as transaction success rates, user experience, and security vulnerabilities.
In conclusion, integrating payment gateways with ThriveCart substantially augments a business's efficiency, security, and scalability in e-commerce. By meticulously selecting a suitable payment gateway and implementing a well-planned integration strategy, businesses can bolster their online presence, foster customer satisfaction, and drive sustainable growth.
ThriveCart's Key Advantage Over Other Shopping Carts
Where ThriveCart particularly excels is the robust feature set that distinguishes it from other competitors in the market. Let's look at the key advantages ThriveCart offers compared to other shopping carts and how these benefits contribute to the platform's overall success.
Firstly, an essential consideration when evaluating shopping cart solutions is the ease of integration. ThriveCart is remarkably capable of seamlessly integrating with various platforms, such as membership sites, email marketing providers, and payment processors. This compatibility simplifies setting up an e-commerce store and allows users to select their preferred tools without encountering limitations. Furthermore, the adaptability of ThriveCart encourages entrepreneurs to focus on their core business activities rather than grappling with technical challenges.
Secondly, the platform boasts an intuitive and user-friendly interface. A well-designed user interface (UI) is crucial for enhancing user experience (UX), as it facilitates easy navigation and expedites task completion. ThriveCart's UI adheres to modern design principles and incorporates drag-and-drop functionality, enabling users to promptly create high-converting shopping cart pages. This reduction in complexity empowers even non-technical individuals to establish their online stores, fostering inclusivity and broadening the platform's appeal.
Moreover, the role of analytics and data-driven insights cannot be understated in today's digital age. To this end, ThriveCart equips users with comprehensive reporting capabilities that offer invaluable insights into customer behavior and sales performance. Businesses can make informed decisions and optimize their marketing strategies by leveraging this data. Additionally, ThriveCart supports split-testing, which allows users to experiment with different variations of their shopping cart pages to identify the most effective option. This scientific approach to optimization contributes to higher conversion rates and revenue generation.
Another noteworthy advantage that sets ThriveCart apart from its competitors is its robust suite of built-in tools for affiliate management. These tools enable businesses to create and oversee their affiliate programs effortlessly, allowing them to capitalize on the influential power of affiliates in driving sales. ThriveCart's affiliate management tools provide granular control over commission structures, cookie duration, and payouts, equipping users with the necessary resources to cultivate thriving affiliate networks.
Finally, customer support plays an indispensable role in determining the success of a shopping cart solution. ThriveCart excels in this regard, offering prompt and reliable assistance through various channels, including email, live chat, and a comprehensive knowledge base. As a result, users can expect timely resolutions to any issues they encounter, fostering a sense of trust and confidence in the platform's capabilities.
ThriveCart Value for Money
It is crucial to assess whether ThriveCart offers value for money. This section will look into the features, pricing, and overall benefits of utilizing ThriveCart compared to its competitors.
ThriveCart's Features:
Integration

ThriveCart seamlessly integrates with numerous platforms and services, such as payment gateways (PayPal, Stripe, and others), email marketing tools (ActiveCampaign, Mailchimp, etc.), membership platforms (Teachable, Thinkific), and much more. This extensive integration capability creates a unified and efficient system within your business ecosystem.

High-Converting Checkout Templates

ThriveCart offers templates designed to maximize conversion rates. These professionally crafted templates can be easily customized and optimized for different devices (desktop, mobile, tablet) to cater to customers' preferences.

One-Click Upsells, Downsells, and Bump Offers

Such features enable businesses to increase their average transaction value by offering customers additional products or services during checkout. These strategic offerings can contribute to higher sales and revenue generation.

Affiliate Management System

ThriveCart offers a robust affiliate management system that allows businesses to recruit, manage, and track affiliates. This feature facilitates the growth of a strong affiliate network, which, in turn, can lead to increased brand awareness and sales.

Subscription and Recurring Payments

The platform supports subscription-based models and recurring payments, enabling businesses to offer flexible payment options to customers and encourage long-term engagement.
Pricing:
ThriveCart offers a one-time fee rather than charging monthly subscriptions like most of its competitors. The standard lifetime license costs $495, while the more advanced pro features can be accessed at $690. This one-time payment structure can be advantageous for businesses, as it reduces the long-term cost of maintaining the platform. ThriveCart offers a 30-day money-back guarantee, providing customers with a risk-free trial period.
Competitive Analysis:
ThriveCart's competitors include platforms such as SamCart, Shopify, and WooCommerce. While these alternatives offer unique features and benefits, ThriveCart stands out due to its distinctive pricing model, comprehensive integration capabilities, and extensive feature set tailored specifically for high-converting carts and checkout processes.
In summary, ThriveCart delivers value for money through its extensive integration options, easy-to-use interface, high-converting templates, and other features catering to small and large businesses' needs. The one-time pricing model offers significant savings in the long run compared to subscription-based alternatives, which is particularly attractive for cost-conscious entrepreneurs. While alternative e-commerce solutions may appeal to different users based on specific requirements, ThriveCart's offerings make it a viable and valuable choice for businesses seeking an efficient and effective shopping cart solution.
ThriveCart Product Support
Now let's dive into the product support offered by ThriveCart, analyzing its effectiveness, accessibility, and comprehensiveness in addressing user concerns.
Effectiveness of ThriveCart Product Support
The effectiveness of any product support system hinges on its ability to resolve user issues in a timely and satisfactory manner. ThriveCart achieves this through several avenues:
Comprehensive Knowledge Base

ThriveCart maintains a detailed knowledge base, replete with articles and tutorials that guide users through various aspects of the platform. This resource elucidates complex concepts such as affiliate management, upsells and down sells, and integrating third-party applications. By distilling intricate topics into accessible language, the knowledge base allows users to troubleshoot common problems independently.

Responsive Email Support

For more specific concerns, users can contact ThriveCart's email support team. The response time and quality of assistance are crucial in deciding the effectiveness of this channel. Though anecdotal evidence suggests that ThriveCart's email support is generally responsive and helpful, individual experiences may vary.

Periodic Updates and Bug Fixes

A robust product support system must troubleshoot existing issues and proactively address potential problem areas. ThriveCart's developers routinely release updates and patches, enhancing platform functionality and rectifying reported bugs.
Accessibility of ThriveCart Product Support
An accessible support system ensures that users can easily seek help when needed. ThriveCart excels in this regard, offering multiple touchpoints to engage with its support resources:
In-Platform Help Center

Users can directly access the extensive knowledge base from the ThriveCart platform, allowing them to quickly look up relevant information while using the software.

Email Support

By providing an email support option, ThriveCart accommodates users who prefer more personalized assistance or require help with issues that need to be addressed in the knowledge base.

Social Media Channels and Community Forums

ThriveCart maintains a presence on various social media platforms, allowing users to follow updates and engage with the support team. Additionally, community forums allow users to discuss challenges, share solutions, and learn from their peers' experiences.
The comprehensiveness of ThriveCart Product Support
A comprehensive support system should address a wide range of user concerns, catering to different levels of expertise and familiarity with the platform. ThriveCart's product support achieves this through the following:
Detailed Guides for Beginners

The knowledge base offers step-by-step guides tailored to users new to the platform or with limited experience with eCommerce tools. These resources demystify complex concepts, empowering novice users to leverage

Advanced Tutorials for Experienced Users

For users seeking to optimize their use of ThriveCart, the knowledge base also contains advanced tutorials on topics such as custom integrations and advanced tracking options.

Integration-Specific Support

ThriveCart's compatibility with numerous third-party applications necessitates dedicated support resources that address integration-related concerns. The knowledge base includes detailed instructions on setting up and troubleshooting integrations, ensuring users can seamlessly connect ThriveCart with other business tools.
In conclusion, ThriveCart's product support system is committed to delivering practical, accessible, and comprehensive assistance to its users. By fostering self-reliance through an extensive knowledge base, offering personalized support via email, and maintaining a strong online presence for user engagement, ThriveCart provides an environment conducive to success for businesses operating in the ever-evolving landscape of eCommerce.
ThriveCart Pros and Cons
Pros:
High-converting checkout pages
User-friendly interface
Wide range of integrations
Lifetime pricing option
Versatile sales funnel builder
Cons:
Limited customization options
May not be ideal for service providers or coaching programs
ThriveCart FAQs
What payment processors does ThriveCart currently support?
ThriveCart integrates seamlessly with PayPal, Stripe & Authorize.net. You can integrate many accounts of eachone. ThirveCart also accepts payments via Google and Apple Pay. In the future they may support even more payment processors.
Does ThriveCart handle sales tax calculation?
Yes, ThriveCart includes a simple sales tax feature, which suggests rates based on location & item purchased! You'll also have access to helpful reports to track and input data into other sales tax solutions. 
Can I create unlimited courses with ThriveCart?
Yes, With ThriveCart you can easily create multiple courses.
What is thrive cart used for?
ThriveCart is a robust shopping cart platform which enables online businesses to increase their revenue with high-converting cart pages.
What can you sell with ThriveCart?
You can sell a wide variety of items on ThriveCart such as courses, ebooks, memberships and many other different digital products.
Final Verdict
Is ThriveCart the Right Tool to Start an Online Store? ThriveCart is an excellent choice for businesses looking to enhance their e-commerce experience, boost conversion rates, and increase revenue. However, there may be better fits for service providers or coaching programs due to its limited customization capabilities. ThriveCart's feature set, high-converting checkout pages, and lifetime pricing make it a strong contender in the online shopping cart market.